Online Business Junction
TOP 100 SITES
This Top 100 Site is for anyone with an online business.
Whether you are a service business, a WAHM, craft business owner, country or primitive shop owner,
graphic designer, web designer, or offer services for online business owners, you can list your shop here.
All sites must be family-friendly! We reserve the right to remove ANY site at our discretion!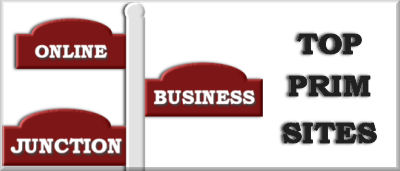 Add Your Site
|
Member Login
Rank
Site
In
Out
31
Mamaws Creations

0
0

Mamaws Creations carries items for the primitive lover. You will find patterns and finished items. Raggedies, gingerbread, snowmen, crows, ornies, wearables, and more.
32
Apple barrel Primitives

0
0

Primitive Colonial Decor and Primitive Paintings direct from the artist. Wholesale available.
33
Simple Treasures

0
0

Simple Treasures Online offers a wide variety of quality handmade decor, scented goodies, patchwork and wooden items all made from the heart.
34
Lake Erie Gifts & Decor

0
0

Primitive and Country style Home Decor and Country Gift Shop. We specialize in Primitive Home Decor and offer an abundant collection of affordable merchandise.

35
Homespun Treasures

0
0

Welcome to Homespun Treasures! We offer a primitive gathering of grubby candles which include primitive rusty tin, enamelware, tarts, muffins, cinnamon buns, votives, colonial style tapers, and jar candles. We also carry a variety of bakery style candles
36
Olde-time-stitchin

0
0

Primitive embroidery patterns...stitcheries, candle mats, cozies, place mats, bread cloths, and much more...
37
Plain Jane Stuff

0
0

We offer Primitive Country Crafts and Decor, Country Style Furniture, Prim Country Signs, Prim Country Candles, and Unique Primitive Country Gift items.

38
Primitive-Stitches

0
0

Creating primitive and folk stitchery patterns. Stitcheries, hand towel, bread cloth, candle mat and tag designs. Holiday, seasonal and everyday patterns. Large Inventory. New patterns added often!
39
A Crowe's Gathering

0
0

A Primitive Gathering of Treasures for your Pleasure. We specialize in handmade Home Decor and Country items made in America.
40
Primitive Kountry

0
0

Melties, Fixins, Tart burners, Wax Dipped TP, Primitive Decor and so much more! Homemade the day you order!
41
Em's Prims

0
0

Primitive needfuls for your home. Crows, Annies, Sheep, Holidays and much more. Free Shipping! Layaway available! Visit us today!
42
Country Road Crafts 'N Keepsakes

0
0

An online country shop offering primitive homemade crafts and creative scrapbooking solutions to display photos and memorabilia. Custom designing available! Handmade in the U.S.A.
43
Tara's Scentsational Gifts

0
0

Specializing in soy melts, wax dipped bears, air fresheners, room sprays, and more! Wholesale also available!
Your site here
Your site here
Your site here
Your site here
Your site here
Your site here
Your site here
Your site here
Your site here
Your site here
Your site here
Your site here
Your site here
Your site here
Your site here
Your site here
Your site here
Page:
1
[2]
Last Update: Fri, 11.17.17 18:26
Next Update: Fri, 11.17.17 18:56
Next Reset: Thu, 12.14.17 15:19
Sites: 43